They huddled by the back door, begging for mercy. So I let them in and they are now undergoing the fate of refugees everywhere, jammed together in temporary and inadequate accomodations while the government - me, in this case - decides what to do with them. Coleus and caladium, amaryllis and crown of thorns, ivy and oleander, cyclamens and ah yes, the cyclamens. These are not miserable, starving refugees at all. Their summer outside has agreed with them, and they are plump-cheeked and bright-eyed and much bigger than when they went out this spring.




These are my seed-grown cyclamens, now about a year and a half old. I would be thrilled if they flowered for me, but the leaves are so beautiful, flowers are not necessary to attract admiring glances. I'll put them in a northeast window. I've tried southwest in the past, and they scorched. Although, come to think of it, having come in directly from outside, these ones might be able to handle it... Hmmm. I think I've talked myself into trying.

This tiny crown of thorns will definitely join its mother in the southwest window. These were cuttings I took as anti-theft insurance, (the big one was out front not far from a busy sidewalk) and it spent most of its summer tucked among garden plants as a cat deterrent. It stayed healthy, but didn't grow much in its not-so-sunny location. Crown of thorns often drop their leaves in response to an abrupt change in light and temperature, but after finishing their snit fit they grow a lovely new set, so it's not a major problem. So far the larger mother plant, much to my surprise, has accepted her new surroundings calmly, and other than cranking her flowers around to face the window, has maintained her poise admirably.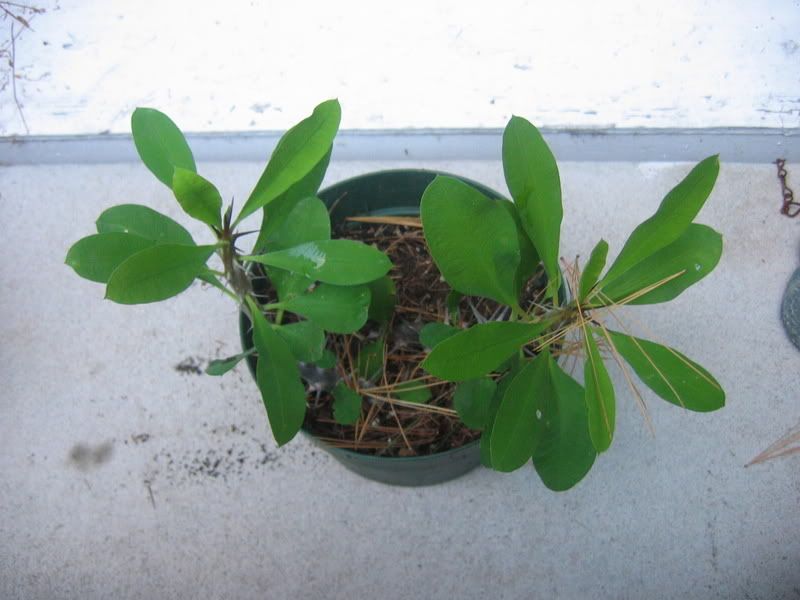 I might even let the Christmas cacti in soon too. I noticed this morning that the big one is putting out flower buds already. Pregnancy is always helpful when trying to sway immigration officials.

Previous post on the topic of Cyclamens, Crown of thorns cactus

Technorati tag: Cyclamens, Crown of thorns