It's rose season in Ottawa! Hit Parade is strutting its stuff, and very fine stuff it is too! This photo shows what was a single plant from one of those little potted roses they sell around Easter and Mother's Day. In one year it has expanded to many times its original size. And the others are much the same, except for the ones that got trampled.

I can't say enough good things about these little beauties. They experience almost no winter dieback, even without protection (although a tough winter might be a little different), they have had no problems with pests or disease and they flower abundantly from late May through till frost. They don't require dead-heading, though I often remove fading flowers for purely esthetic reasons.

It's not fair to compare the Orange Kordana I just put in, because they're a full year behind the Hit Parades. So far, they've been settling in well, with healthy new canes starting to appear.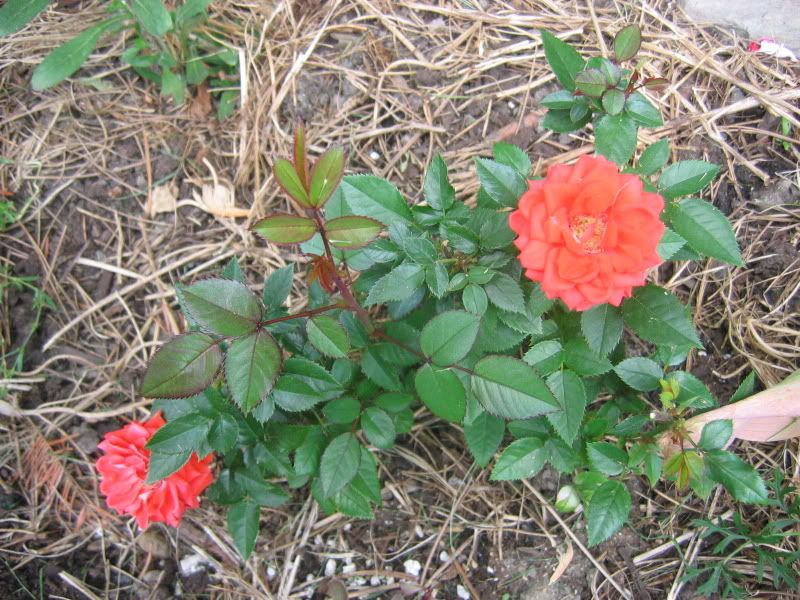 It is fair to say that I don't find them very orange. They looked relatively orange at the garden centre, next to cherry red roses. But at home they are near the scarlet Hit Parades and in that context the difference in colour can be made out if you stare long enough. Unfortunately, that kind of nuance is tricky to catch with a camera. In real life the Kordanas look redder than they appear in these photos.

In all fairness to the breeders, they weren't the ones who called them orange. I checked their website and this wasn't one of the names they used, so it's just a descriptive term, not a name. But it really was stretching it a bit.