This Iceberg is melting... me. Wonderful winter-hardiness; recurring flushes of brilliant white, delicately fragrant blooms that hold up for many days even in summer heat; glossy, disease-resistant foliage; what's not to love? It's not for nothing that Iceberg was inducted into the World Federation of Rose Societies' Hall of Fame in 1983. It is essentially the gold standard of white floribunda roses (and climbing roses, because there's a climbing version, too).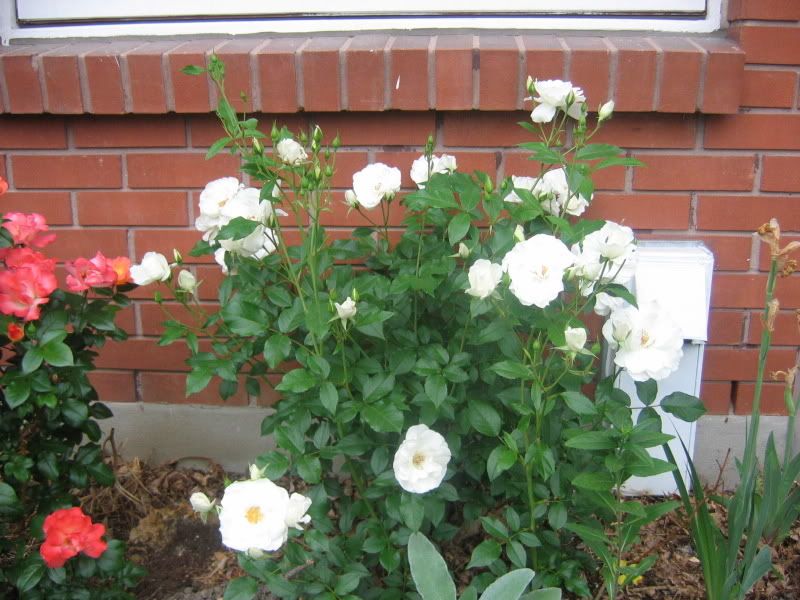 This is therefore an excellent rose for people who don't like to fuss over persnickety plants, or who simply don't have the time to. Those who get a great deal of pleasure out of growing things their neighbours can't are advised to look elsewhere. I do water it thoroughly once a week, because it's in the rain shadow of our eaves and I did pile up potting soil around its base for some winter protection. Most of the canes that were exposed to the air all winter came back without the slightest hesitation anyway. Granted, it was a mild winter. That, and a light pruning in the early spring was all the special attention it got. A little top-dressing with aged sheep manure was applied to the entire bed, so it got that too. And that's it.

My biggest complaint about Iceberg is that the white is so pure, that it can be difficult to catch with a camera. It simply reflects too much light back to the lens. I wouldn't even attempt it on a sunny day.