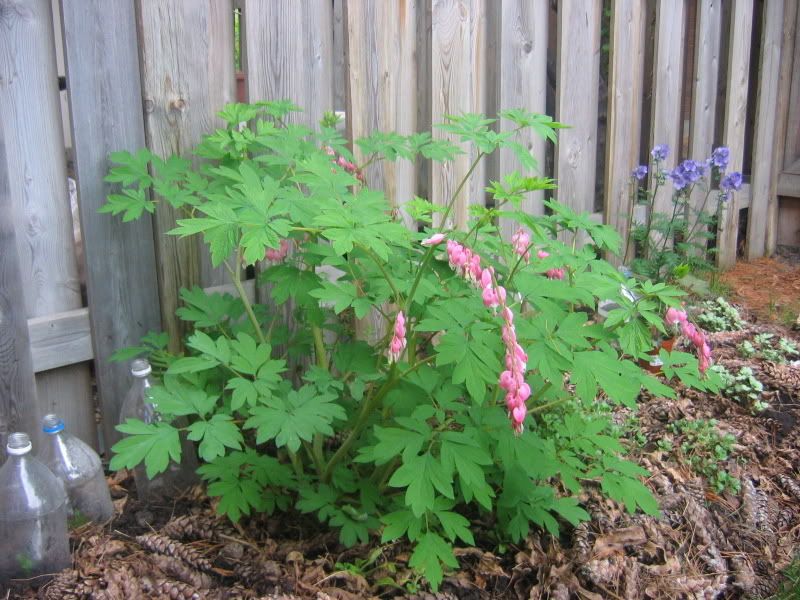 They bloom liberally, they grow liberally, they reseed liberally, ya just gotta love 'em!


The reseeding liberally part I don't know from personal experience; I'm an incurable deadheader. But the picture at right of the same bleeding heart in 2005 gives ample evidence of the growing liberally part. It was such a pretty little miss, but she's definitely put on weight. Next year, she will be a monster. And I will love every little bit of her!

In recent years, I have not had much difficulty with the foliage dying down early, although I really can't tell you why. It's been staying green for me well into autumn, so I haven't had to devise strategies for hiding it or filling in gaps. When I had one in a somewhat sunny location, I seeded cosmos around it, and they would get big just about the time the bleeding heart was getting ratty and screened it very effectively. Hmm, maybe a less sunny location has something to do with the foliage lasting longer.


I've also been known to pop one of my larger planters into the garden to fill in the hole. A mature Dicentra spectabilis takes up a good square metre, which makes for pretty big shoes to fill. Some people don't think she's worth the effort, but I am definitely too smitten to care.