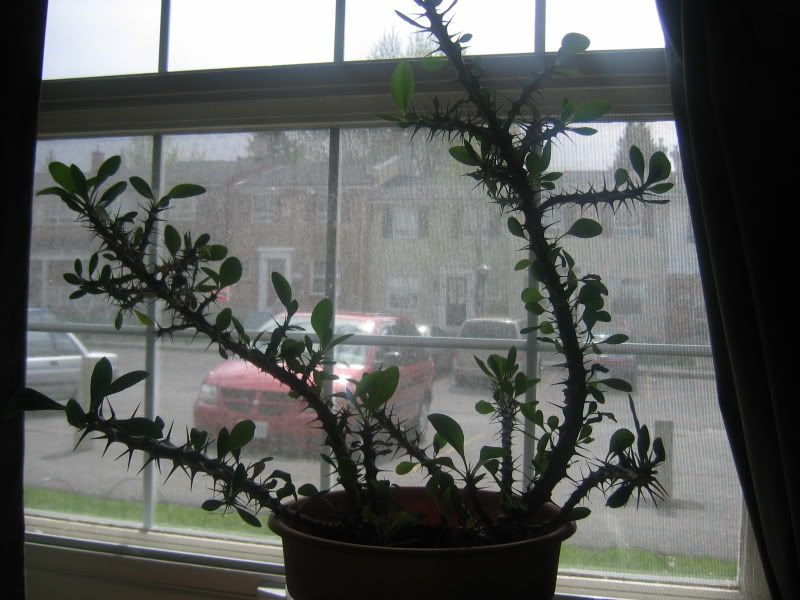 I call this the plant only a man could love. And the fellow who originally gave me a piece of his definitely loved it. He didn't believe in pruning and it had grown into this great monstrous thing that looked like an escapee from a horror movie, with drooping, spiny branches on a plant three or four feet high and almost as wide. I would take guests around to gawk at it on his front porch in the summer, and their jaws inevitably dropped. He had grown his from a cutting his now deceased mother had given him, she in turn having received it from a neighbour who'd brought it over to North America from Vienna decades ago, so this is a plant with a lot of history.

So meet Euphorbia milii, the crown of thorns cactus. Despite the name, it was not found in Palestine two millenia ago, being a native of Madagascar. As a member of the vast and varied Euphorbia genus, it has the characteristic white sap that can irritate your skin. Seeing as you can't get up close and personal with this fellow without heavy gloves on, that rarely causes problems.

To take a cutting, I get a good grip on one of the sturdy thorns and nip off a branch with pruners or sturdy scissors. After I rinse away the white latex with water, I leave the cutting to dry for at least a couple of days so the end won't rot. Then I just stick it in potting soil (carefully!) and keep it a little on the damp side until new growth appears. It's an easy-care plant and while it prefers normal care, will get by quite nicely with a little neglect. Given enough sun and a bit of fertilizer it will produce little orangey red blooms, but for me, they are not the highlight. There are a lot of newer cultivars available with showier, more numerous blooms for which it might be worth making an effort to stimulate bloom, but I've never tried very hard.

The crown of thorns cactus will react to stress (especially when brought back inside in the autumn) by dropping some or all of its leaves, but it recovers quickly and the new growth is quite attractive, particularly if the plant has been pruned to a nice shape. I haven't been too successful in shaping this one, but in the past I've had some beauties. I tend to give them away when they get large and start over with fresh cuttings.

Mine is now occupying a strategic position in my flower bed that used to serve as a corridor for cats. "Used to" is the operative term. Felines recognize someone with larger claws and keep a respectful distance.