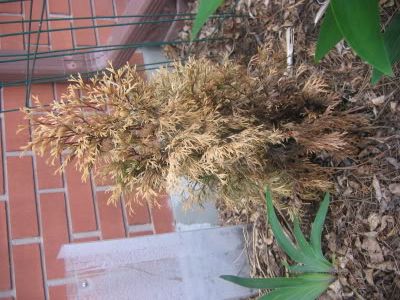 At least in our town, "urban densification" is the new buzzword. Urban sprawl, i.e. ever new suburbs encroaching on farmland and wilderness is out, denser neighbourhoods are in. This, of course, means a lot of apartments - not a gardener's dream - and townhouses.

For me one of the advantages of townhouse living is that it prevents me from spending my whole life tending an over-large yard. One of the disadvantages is that I am thrown in close proximity to a lot of people who have doubtful concepts of civic responsibility. Many of my neighbours are obviously of the opinion that it doesn't really hurt anything if their beloved pooch gives the local shrubs an occasional sprinkling. And if their pooch were the only one doing it, perhaps it wouldn't matter. Problem is, quite a few of them think this way.

In the summer, the dogs concentrate their efforts on the exterior of the numerous large planters set out front and no real damage is done. In the winter, my little arborvitae was an irresistible target and I didn't really realize it until the damage was clearly visible.

What to do? First of all, be thankful I bought a very small one, so I'm not out of pocket very much. I doused the poor thing regularly once I was aware of the problem, but it was too little, too late. I considered trying to talk to the neighbours in question, but I don't even know who all of them are and there is no guarantee they will take effective action. A flyer campaign? A lot of time and effort for very unlikely results. Phone the city? Yeah, as if the darling doggies are going to sit and wait for the by-law officer to turn up. (Please don't get me wrong. I truly like dogs.) I finally decided that a physical barrier was the best way to peace with the neighbours and health for my plants. So I put in a simple folding wire fence (you can see it on the right in the photo), the tallest I could find. It doesn't do anything to deter squirrels and little to slow down cats, but it keeps dogs and delivery people out.

Now I have to dig out the dead shrub and replace it, all without trampling the existing plantings. Fun...