Muscari aka grape hyacinths are strange little members of the spring-blooming bulbs. Strange, because unlike tulips or daffodils or crocuses, they like to poke up little green fingers in the fall, to get a head start on stocking energy.

And so they are the final installment in my list of new beginnings in the autumn garden. The little green fingers are poking up in all sorts of odd corners in my garden, many of them hidden by the riots of foliage around them, but visible if I stoop and look.

Grape hyacinths are a wonderful addition to the spring garden. They will tolerate rather more shade than many other spring bulbs and add a wonderful grace note of blue that harmonizes with virtually anything you throw at them. And they will come back and even increase year after year, which is something I always appreciate.

There's only one thing that calls to my mind the glories of an early spring garden better than grape hyacinth leaves - and that's my soon-to-be-delivered order of bulbs!

I can hardly wait!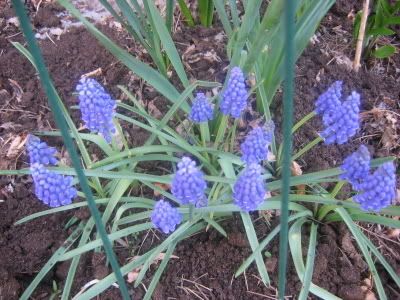 Technorati tag: Muscari